TG Can International design, manufacture, build and integrate our own Integrated Cupping System and End Making Lines. With our own advanced Die-Set at the heart of any of our systems you will have the benefit of World-class innovation and technology at your disposal.
Our latest product, the CM2000 Cupping Press delivers reliability with speed and precision.

Our Cupping Die-Sets incorporate a number of unique design features, all delivering added value to our customers.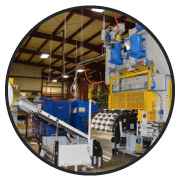 INTEGRATED CUPPING
SYSTEMS
With integration occuring at either the customers facility or our own facilities in the U.K. or U.S.A. we will ensure that the full system, from Upender to Cup discharge or just the Press and Die-Set, including our own Electrical Control System and Cup discharge conveyors will perform from the first stroke.